Inspired Exteriors is an award winning landscape design and construction firm based in Woollahra, Sydney. Founded by internationally renowned Landscape Designer and Horticulturalist, Charlie Albone, our services encompass Landscape Design and Architecture, Project Management, Horticulture, Landscape Construction Garden makeovers and Maintenance. We are passionate about creating inspiring, beautiful outdoor spaces that enrich the lives of those that spend time in them. Inspired Exteriors' dedicated staff have worked on a vast range of high-end projects, both here and overseas. In addition to Australian projects, we have also been commissioned to work in the UK, France, Hong Kong and Singapore. It's this variety of projects and a carefully developed culture that has attracted some of the best design & construction talent in Sydney.
Charlie alongside his team at Inspired Exteriors have won multiple awards both at The Chelsea Flower Show in London and on home soil at the Melbourne and Sydney International Flower and Garden Shows. The team has also won Gold medals at The Australian Institute for landscape Designers and Managers (AILDM) awards and multiple Gold medals for the Landscape of NSW and ACT Master Landscapers (LNA) honours including the prestigious Best Design and Construction award for 2018.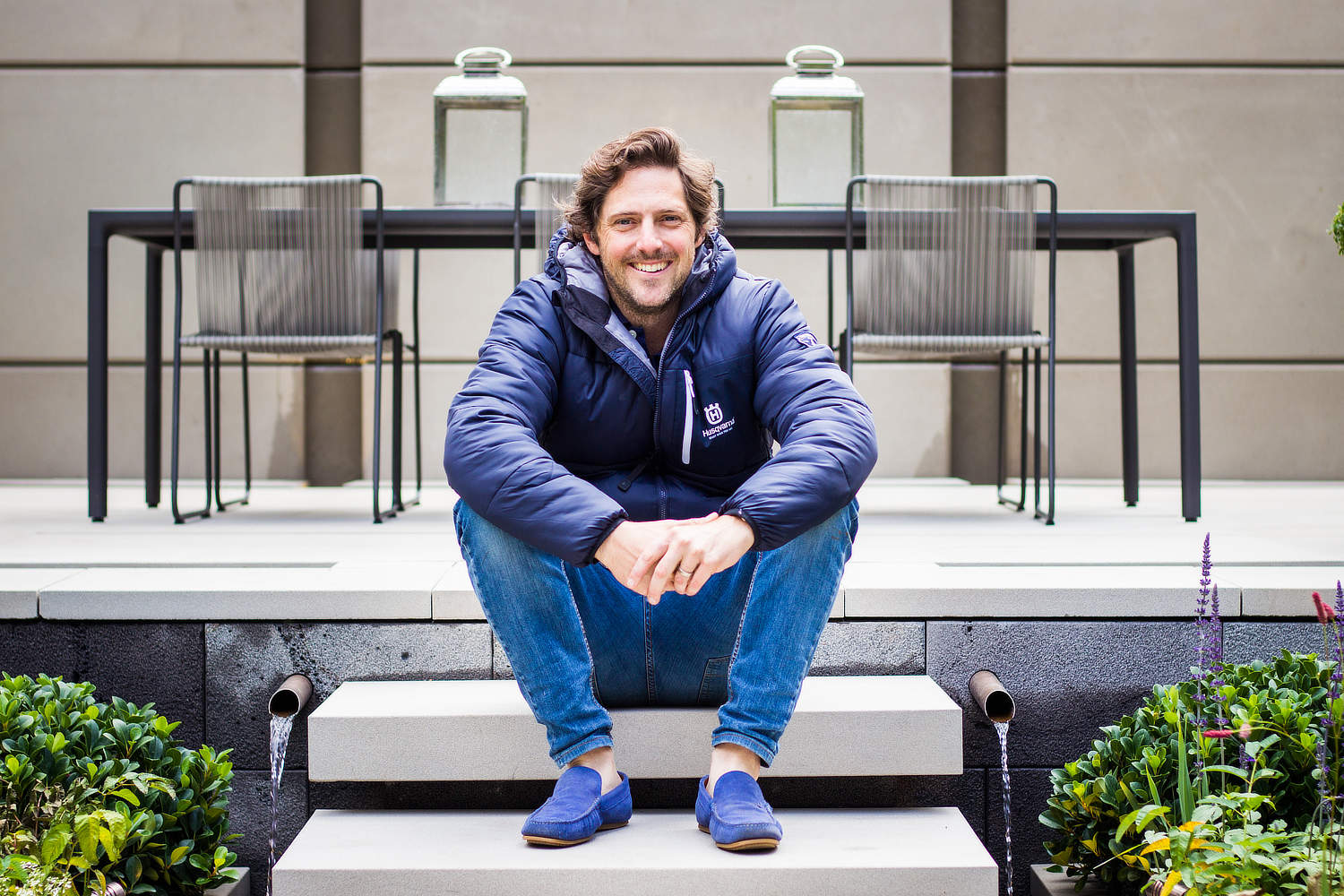 Charlie
Director & Lead Designer
Charlie is one of Australia's most prominent landscape designers. Having worked in Australia and internationally for the past 17 years he is passionate about beautiful gardens and loves plants and the outdoors. His objective is to create stunning gardens that are timeless, inspiring & enjoyable to spend time in. Charlie has had the honor of being invited to fly to London to work on the garden of prominent English Landscaper Alan Titchmarsh at the Chelsea Flower Show in 2014. He also won a Silver Medal for his own Show Garden at the inaugural Australian Garden Show in 2013. Charlie has two Silver gilt medals for his own gardens at the worlds most prestigious flower show The Chelsea Flower show in 2015 and 2016. Charlie is an AILDM member and LNA member and ambassador. Charlie enjoys a high profile in the media recently joining the team at Better Homes and Gardens on Channel seven for their 26th series of the show. Here Charlie offers garden makeovers as well as tips and tricks on all things horticultural. Charlie was also known as The LifeStyle Channel's resident Landscape Design Expert for 13 years. He appeared on several LifeStyle Channel shows including the highest rating program across the entire Foxtel network, "Selling Houses Australia.". He has also hosted other Lifestyle channel shows including Chelsea's Greatest Garden, Charlie & The Flower Show, and The Party Garden™. Charlie is an AACTA nominated presenter for his work at the Chelsea Flower Show.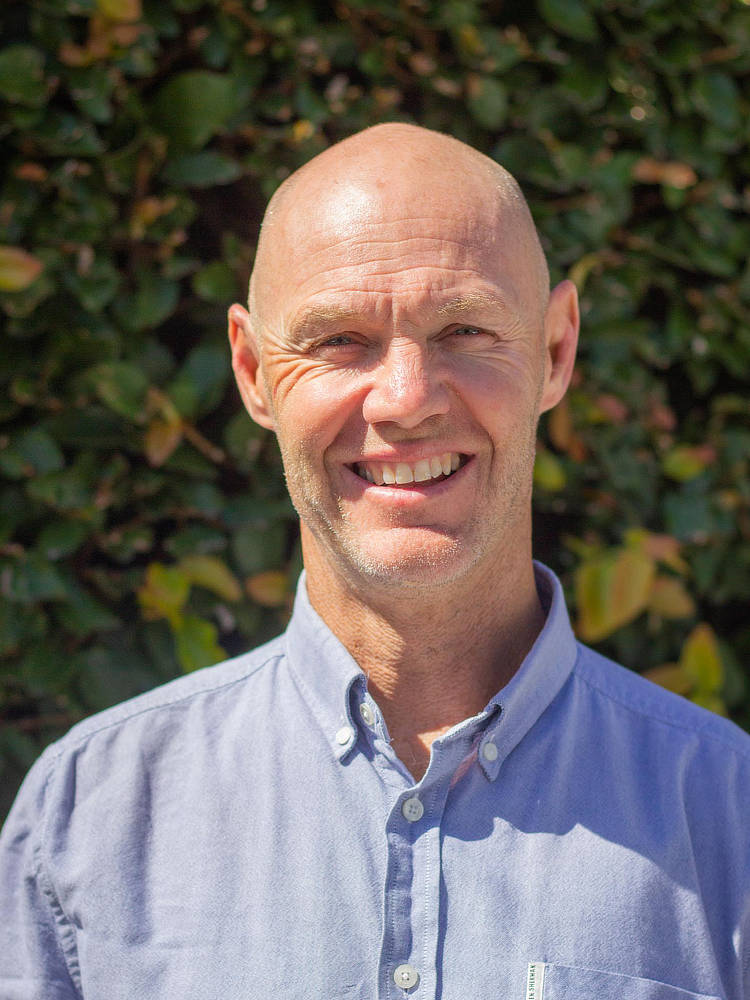 Matt
Construction Manager
Matt has over 25 years' experience in the high-end residential landscape design and construction industry. Matt has an impeccable eye for detail and an unwavering desire to deliver an unforgettable client experience. His initial years were spent in a hands-on, tradesman capacity, forming the base knowledge of quality construction principles and learning that high levels of detail are paramount on residential projects. Subsequent years have been spent deepening his knowledge of the landscape industry along with his leadership skills, holding positions such as, landscape and swimming pool/ spa construction manager, design and sales manager to a managing director role of 30 staff. In recent years Matt has been keen to move back to the core of his enjoyment – bringing creative designs to life by building beautiful gardens. With extensive experience in estimating and project management, Matt's role at Inspired Exteriors is Construction Manager.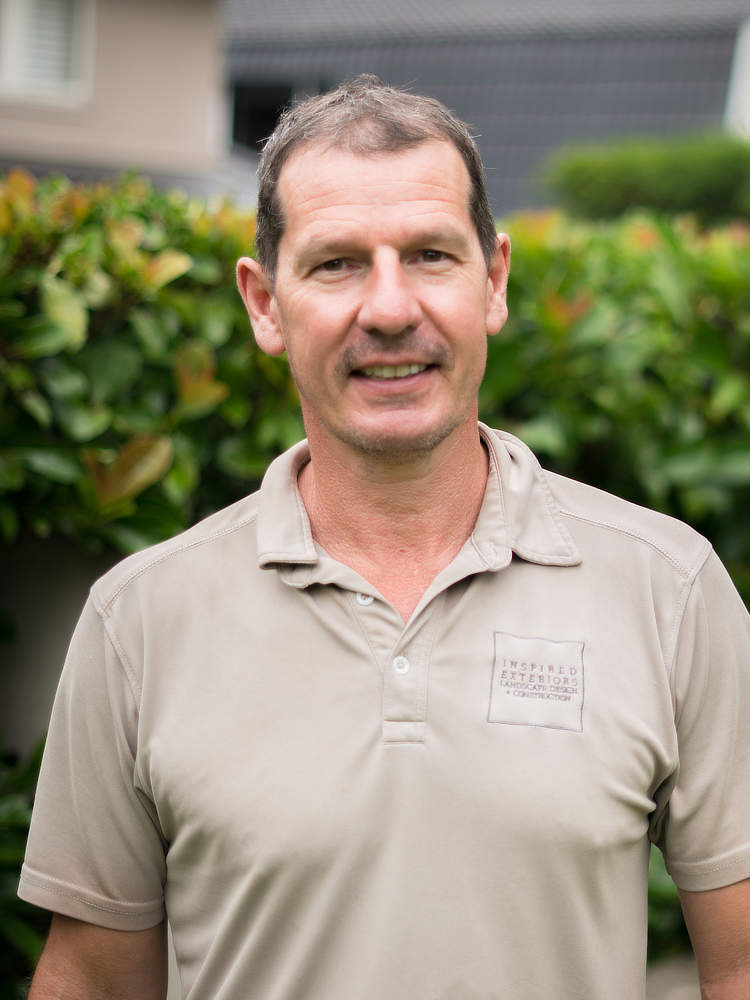 Niall
Horticulture & Maintenance Manager
With a career in landscaping and horticulture spanning 30 years, Niall has worked in a range of disciplines in locations around the world. He is known for his skills in combining creative design with practical know how and his ability to lead a team to create beautiful gardens that inspire. Niall began his landscape career building gardens for high profile designers in and around London. His qualifications include the prestigious Royal Horticultural Society training programme, a Higher National Diploma in horticulture and a Bachelor degree in Land Management and Technology. Since emigrating to Australia, Niall's roles have included Senior Horticulturist at the Royal Botanic Gardens, Sydney and managing and developing a significant garden estate in the Southern Highlands. He now brings his wealth of experience to the Inspired Exteriors team.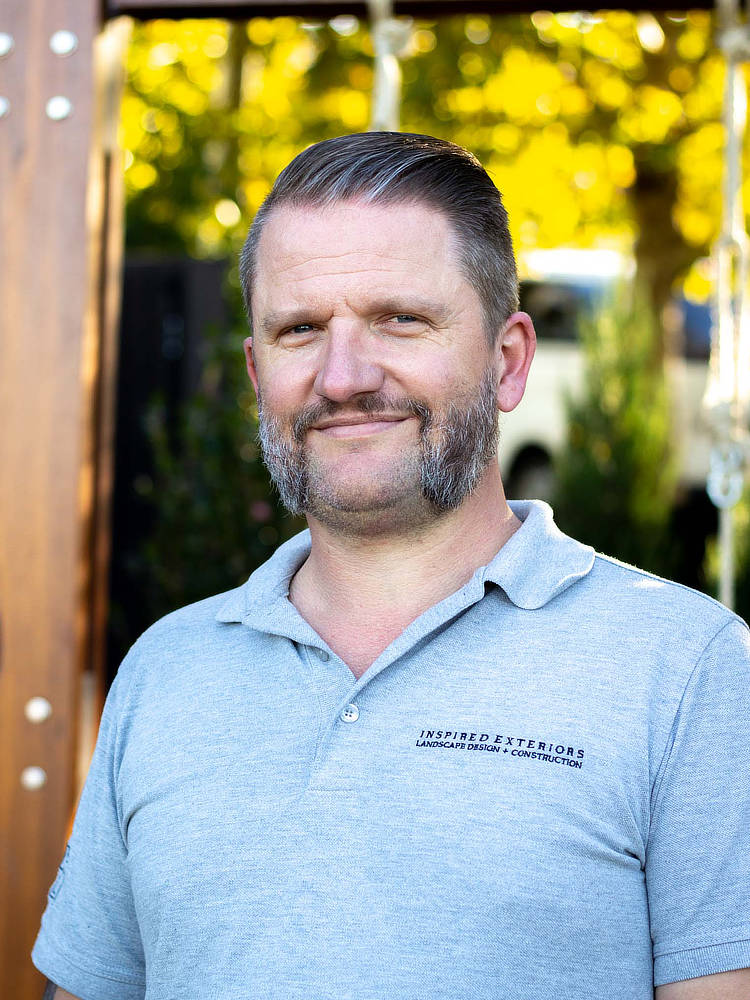 Jim
Construction Foreman & Project Manger
After 10 years working in the corporate offices of a leading Telco, Jim decided it was time to pursue his passion for the outdoors. Since topping his Landscape Construction class his focus has been on delivering the highest quality builds, while bringing the designer's concept and vision to life. When the time came to take his Landscape Construction career to the next level, Jim reached out to Inspired Exteriors as the perfect place to hone his craft. Since joining the business Jim has built award winning gardens for our clients all over Sydney, and regardless of size, every job is treated with the same exceptional standard of care. With his practical expertise, communication skills, and passion for creating beautiful gardens you can rest assured that your project is in the right hands.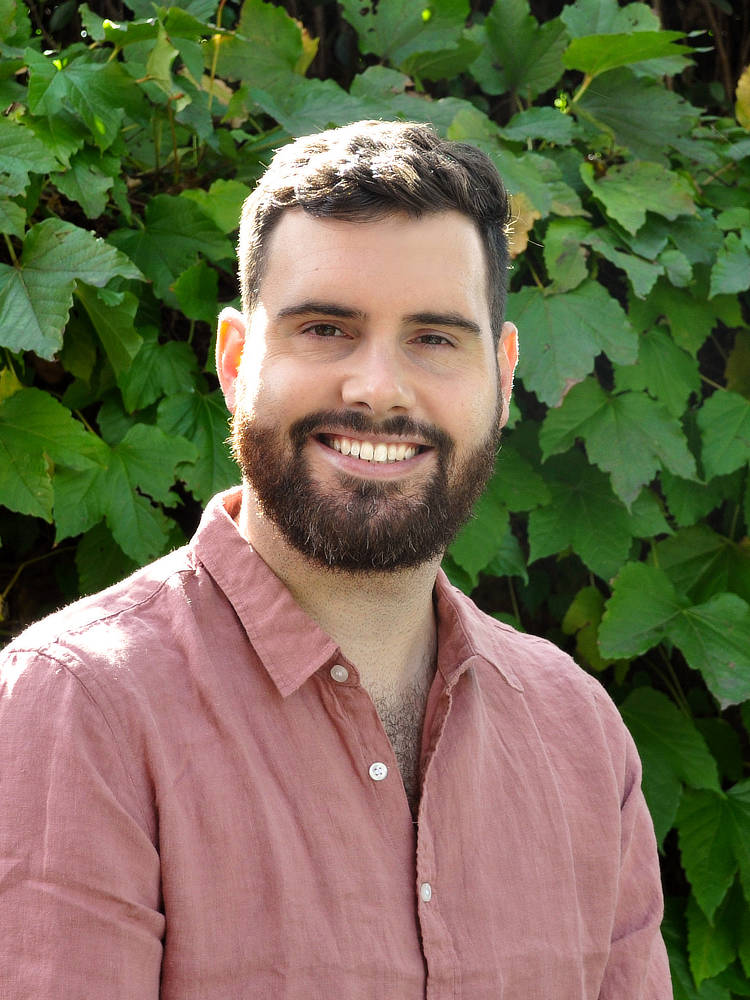 Shane
Landscape Architect
After being brought up on Better Homes & Gardens and Gardening Australia, Shane knew from a young age that he was destined for a career in landscape architecture. After graduating from UNSW with honours in Landscape Architecture, Shane quickly went to work in the industry by becoming the assistant landscape architect at a North Shore based firm which specialized in urban design and placemaking. From there, Shane continued his career with a landscape design and construction company in Sydney's North West where he was able to not only provide clients with highly detailed custom landscape designs but ones that he could see being brought to life. 18 months later Shane was brought on-board as the in-house landscape architect for a home builder based in Baulkham Hills where he spent the next five years. Now with over seven years of residential landscape design experience and a passion for the outdoors, native planting and creative design solutions he joins the team at Inspired Exteriors.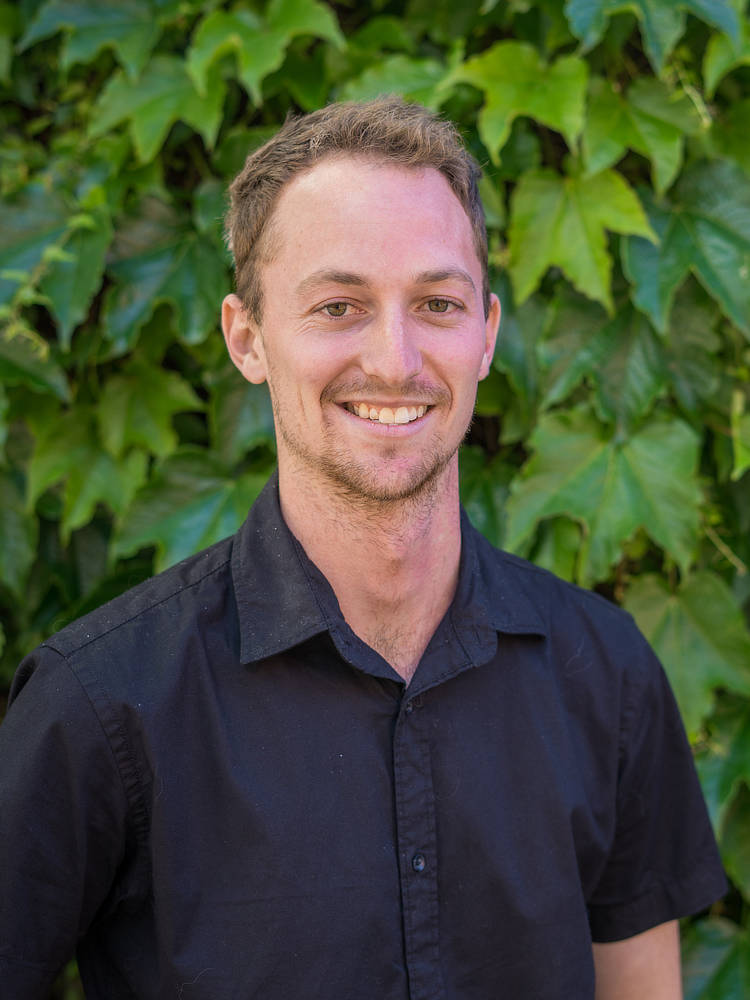 Curtis
Landscape Designer
Curtis joined our team in early 2020 with a strong foundation in the landscape industry as a qualified tradesman and recent graduate of a Diploma of Landscape Design. After completing his qualification and getting a taste of the design process, Curtis knew he had found his true passion and his ambition was greater than ever to make his mark in high end residential garden design. His passion grows daily to enrich people's lives through outdoor living and sustainable design practices. Curtis's spark for the industry first grew while on vacation in New York City where he experienced the designed public space of Central Park. He recognised the impact gardens can have on people and society as a whole. Curtis loves that the landscape design process starts with a simple hand sketch, which ultimately leads to an ongoing experience for our clients. Curtis brings a high level of creativity to our team, while implementing his background knowledge and skills in outdoor construction to his designs.